Careers
Become part of the Hamlet story.
---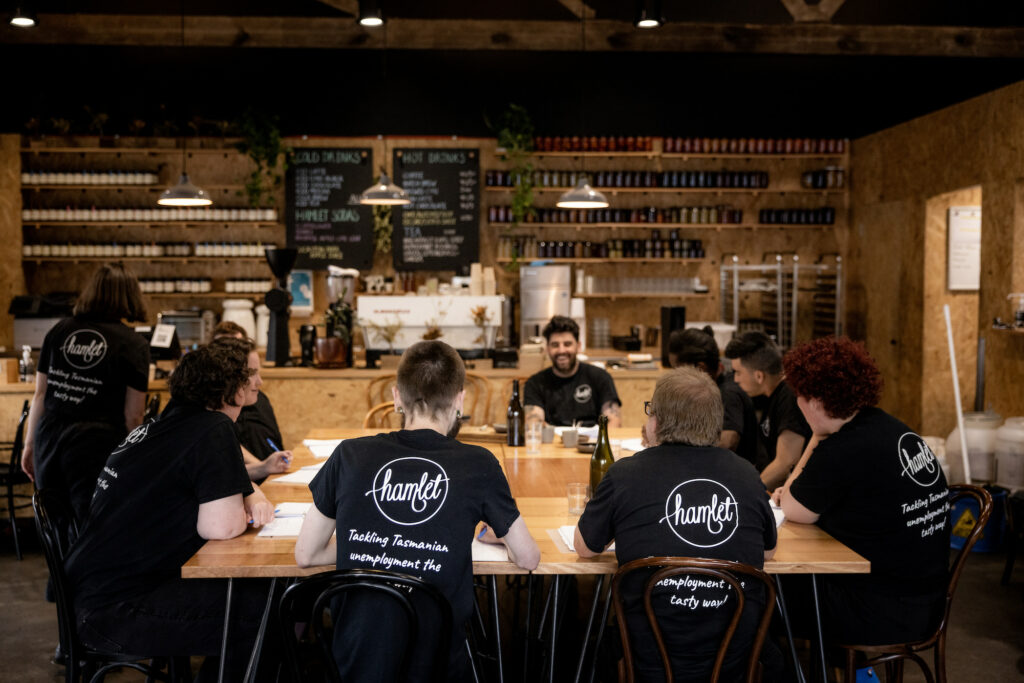 Hamlet is a registered charity that exists to empower Tasmanian jobseekers. We operate a number of social enterprises including a cafe and catering business located at 40 Molle Street Hobart. Hamlet provides on-the-job training and work experience opportunities to members of our community who face significant barriers to employment.
Our aim is to create a structured nurturing environment in which people can build confidence, skills and make some lasting connections with other members of their community.
Role
Hamlet's Constitution contains an independent Association Secretary in a Voluntary capacity to undertake high level administrative and secretarial functions for the smooth operation of the Board of Hamlet.
The position is not an official Board member, but is an important role for a Volunteer from our community to contribute to the smooth governance, and operation of our Board and the relationship between the Board and CEO and Management.
The Hamlet Board requires someone to undertake the following:
Schedule via electronic means Board meetings and keep Board across changes, venue etc.
Attend Board meetings and undertake minutes for Board approval
Preparation of agenda, papers and minutes for Board meetings
Compile Board papers from Management and Board and publish in a professional manner for distribution to the Board electronically.
Distribute papers to the Board in a timely manner (as close to 1 week prior to meetings)
Maintain the Board and Hamlet electronic document library.
Support the Chair and Board with Annual General Meetings including advising on Board nomination processes and elections.
Sending out notices of upcoming board meetings and requesting Board papers in a timely manner
The Hamlet Board usually meets 8 times per year and the secretary role requires approximately 6 – 8 hours of time committed per meeting cycle (including attending each meeting for minute taking) to prepare papers and correspond with the Chair and CEO
Knowledge and Experience
You are:
Highly organised and accurate
Able to understand the Constitution and Board processes
Professional in your conduct and able to maintain confidentiality
Superior contemporary IT and administrative skills to publish professional Board packs
Excellent communication skills, including written and verbal
Commitment to the work of Hamlet
Have a working with vulnerable people card
*Please note this position is not a formal role with the Hamlet Board and you will not be elected as a Director, but the role is in the Constitution and a valued member of the team to support the Board.
To Apply:
Applications have been extended and close 5pm, Friday 14th April 2023. Please send a resume and cover letter to Mat Rowell Rowellmat@gmail.com