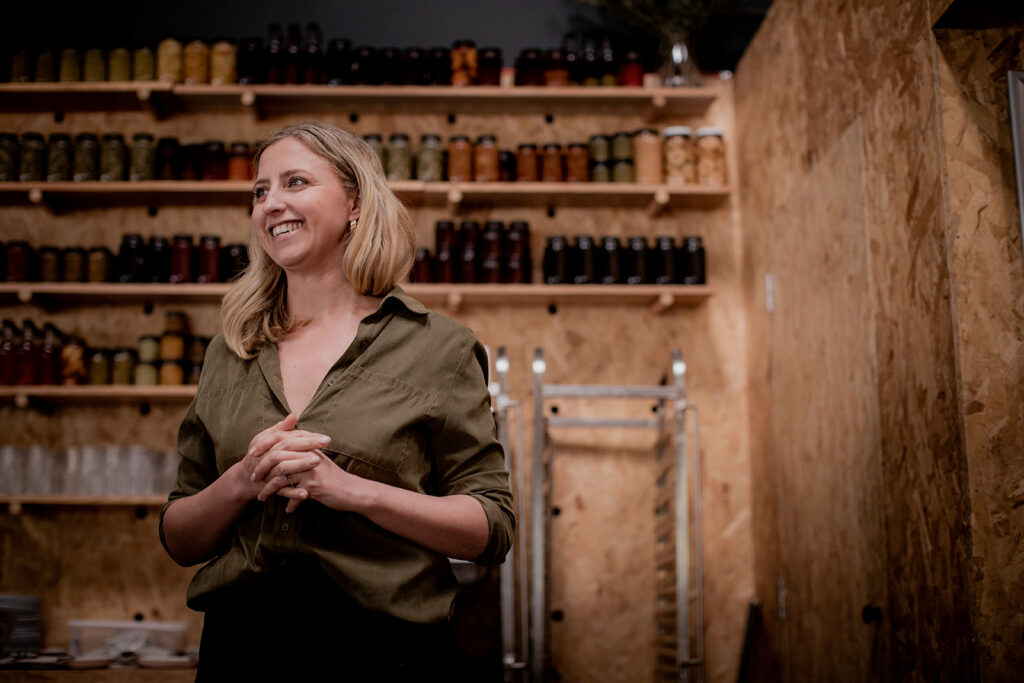 "I am often asked why I started Hamlet, and I always find it a strange question to answer. Because to me, it always felt a bit like Hamlet chose me, like a series of events occurred to lead me in a certain direction and then I was sort of pulled towards this thing that was so much bigger than myself.
In terms of my 'why', when I was in my early 20s I had returned from living in China, and my brother Jarrod told me about an extremely ambitious idea he had to start a social enterprise café. Jarrod had no start-up capital, very little experience working in hospitality and no experience running a business. What my brother did have was pure determination, the ability to engage people with his ideas and an ability to connect with people in a way that created a real sense of community.
Kinfolk opened in Melbourne in 2010 and I worked there for almost 4 years, starting as a volunteer to help out and working my way up to head chef. In 2014, I moved to Tasmania for a job and thought I might be here for 6 months to a year. As the story always seems to go, I fell in love with this place. And as I began to find a home here, I started to be more exposed to the issue of unemployment in Tasmania, and wondered if an enterprise similar to Kinfolk could work here focussing solely on assisting people to build the skills they needed so they could get their foot in the door.
During my time at Kinfolk I had fallen in love with the concept of social enterprise. It just made sense to me; I loved the idea that you could allow people to create social change without actually changing their daily routine. People were simply buying a cup of coffee, but that cup of coffee at that café could help create change in their community. It was truly beautiful, and I was hooked.
After learning about how serious the issue of unemployment was in Tasmania, I started trying to identify what it was exactly that made it so difficult for people to secure work. I'm not naïve enough to believe that there is one solution that could solve an issue this big, but I do believe that if you're struggling to find work it would feel a lot more daunting if you didn't feel like anyone was in your corner. That's where I thought Hamlet could sit.
So, I had this idea and no real knowledge of how to make it happen, and a very small network in Hobart. I was extremely lucky to meet a series of people who believed in the idea and were keen to get involved. I met Millie, an equally passionate hospitality professional who had a "we got this" attitude, and the two of us found a space and started renovating with a good friend of ours who designed (and then built) our beautiful café. I'm not going to lie – the first year was hard work! We were open 7 days a week and I was probably a bit unrealistic about how much I could take on, back then I was working as one of the full-time chef, but had actually rostered myself on 7 days a week and I was attempting to manage the organisation in my "spare-time". It definitely wasn't sustainable but there was something about watching people changing day by day that I found incredibly energising and I didn't want to miss out on being a witness to it. I can still remember the first day Jack made eye contact with me – it was one of the times I realised just how important Hamlet was for people. Jack was 24, suffered from extreme social anxiety and had never had a job. For his first couple of shifts he stood in the corner at Hamlet, paralysed by everything that was going on around him – it was as if he was trying to make himself invisible. Little by little we managed to get Jack comfortable in the space and eventually confident enough to serve customers. Jack ended up being one of our most advanced trainees, with skills in both customer service and the kitchen and would regularly help manage functions. Jack has a job now and is a confident young man who chats to his neighbours as he walks down the street. Jack is finally able to let himself be seen.
Thinking back to our humble beginnings I don't know exactly "why" I decided to start down this path but I am very happy that I did. I guess I just really wanted to help people who had become disempowered through circumstances that are usually not of their making. I can honestly say I have no idea where I would be without Hamlet, and the connections I have made here. I absolutely love this job and I feel privileged to get to be a part of the journey of so many Tasmanians."
Emily Briffa | Hamlet co-founder + CEO